G.R.I.T (Growth, Resourcefulness, Innovation & Tenacity)
At the heart of our school mission is the Guiding Principle of  'GRIT'.  This broad philosophy encompasses our beliefs and values and guides us in our decision making in all circumstances, irrespective of changes in our goals, strategies or type of work.
Dr Angela Lee, an expert in this area, defines "GRIT" as "passion and perseverance for very long term goals. It is about having stamina and sticking with your future, day in, day out. Not just for the week, not just for the month, but for years, and working really hard to make that future a reality. It is living life like a marathon, not a sprint".
She also shares a simple formula for achievement.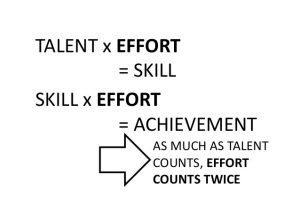 "Without effort, your talent is nothing more than your unmet potential. Without effort, your skill is nothing more than what you could have done but didn't. With effort, talent becomes skill, and the very same time, effort makes skill productive"? Angela Duckworth, Grit: The Power of Passion and Perseverance
In MSS, we have further distilled "G.R.I.T" to mean Growth, Resourcefulness, Innovation and Tenacity to serve as guide for our actions. We believe that with this mindset and guiding principle, we can overcome all challenges and achieve our School Vision of a Dynamic, Confident and Caring Learner.
Growth

We believe in having a growth mindset in all that we do. "In a growth mindset, people believe that their most basic abilities can be developed through dedication and hard work—brains and talent are just the starting point. This view creates a love of learning and a resilience that is essential for great accomplishment." (Dweck, 2015). We are also willing to take calculated risks and display courage in the face of uncertainty.

We prioritise growth and we are open to feedback

We are not afraid of challenging tasks

We are always looking for ways to push ourselves harder and explore new and different opportunities

We encourage ourselves and others to see the positive in our challenges

Resourcefulness

We believe resourcefulness is a mindset, and is especially relevant when the goals we have set are difficult to achieve or we cannot envision a clear path to get to where we desire to go. With a resourcefulness mindset, we are driven to find a way. An attitude of resourcefulness inspires out-of-the-box thinking, the generation of new ideas, and the ability to visualise all the possible ways to achieve what we desire.

We actively look for resources and support to get through challenging tasks

We reflect on and understand our own strengths and weaknesses and actively attempt to find ways to practice and improve on them

Innovation

We believe an innovation mindset is key to improvement and growth. Having an innovation mindset means we possess qualities such as perseverance, initiative, collaboration, tenacity, and curiosity.

We seek to constantly improve in the way we do things

We are willing to learn from others and the best practices but we will adapt to our context

We believe in collaboration and teamwork

Tenacity

We are determined to keep moving forward despite the challenges and setbacks we face.

We understand that progress is more important than perfection

We lead through example in staying on the path to our goals

We follow through with commitments in a timely and professional way

We respond to setbacks as learning experiences

We know that changes take time and we will persevere in our efforts